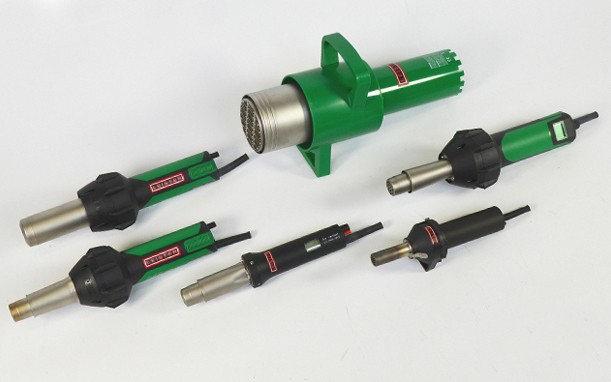 Leister hot-air hand tools are used worldwide and are attractive because of their high reliability, Swiss quality and comprehensive selection of system accessories and consumable materials. These tools are robust and reliable and have proven themselves over and again at various job sites worldwide and are the most preferred hot-air tools by professionals.
Various materials and systems are available for sealing flat or pitched roofs. The majority of the materials processed to this end around the world consist of plastic geomembranes (PVC and TPO) or modified bitumen. The individual sheets are usually laid so that they overlap. Leister has the right tools for welding all these materials. Alongside welding machines, a variety of hand welding tools with matching nozzles and devices for testing the welding templates are available for details.
Technical Textiles & Industrial Fabrics
It is impossible to imagine life today without billboards or industrial fabrics. Whether it is classic billboards on buildings or at events, tents, covers, tarpaulins, architectural structures or sunblinds: it is always a product which was more than likely welded with Leister tools. Leister has always been at home in this important market and boasts unique know-how accordingly. The development of new tools is a top priority for Leister in this application area too. Alongside welding machines, hand welding tools from Leister are utilized here as well, together with matching nozzles and Leister's legendary pressure rollers.
Civil engineering / tunnels / disposal applications
In civil engineering, tunneling, and disposal applications, the quality of the sealing system is the top priority. Any leaks can have fatal consequences. Therefore, it is incredibly important that the processing quality fulfills extremely stringent requirements. Not only the material itself and the processor are responsible for this – in large part, so is the tool used to carry out the work. Leister tools not only facilitate incredibly precise welding, they also stand out from the crowd thanks to their ergonomics. They can be relied on, no matter where in the world they are used.
Thermoplastics are being used more and more for storing a huge range of liquids or for manufacturing what can be complex process equipment, such as fans or pumps. Plastic's resistance to corrosion and material strength are usually the reasons why it is used. In addition, the price of a part made from plastic is lower than that of one made from metallic materials. Leister offers a full range of hand extruders, hand welding tools with integrated blowers, hand tools operated with an external fan (together with matching blowers), and a variety of nozzles for this application area.
Whether in public spaces, hospitals or a domestic setting: Floor coverings made from PVC-P vinyl, PE or linoleum are clean and easy to care for, making them really popular. With Leister tools, the process of connecting panels or sheets is clean and simple. The full range in this application area covers groove cutters, hot-air welding machines, and a wide spectrum of hand welding tools and accessories.